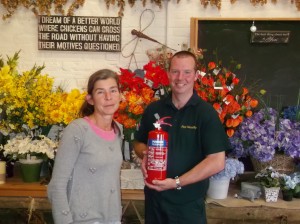 Amanda Barker knows only too well the dangers of fire and how devastating it can be to a business. Almost 20 years ago, a building on her family farm burned down within just two hours.
Amanda, who runs Essentially Hops from the tenanted farm at Bekesbourne, near Canterbury, recalls the awful day in 1996 when an oast house on site was reported alight at 8am and was an empty shell by 10. She said: "It was awful and really brought home the message about how fast a fire can take hold and the damage it can do."
It's hardly surprising, therefore, that Amanda and her husband Mike take fire safety very seriously and we were delighted to be called in to check out the commercial units at Chalk Pit Farm, where she runs her shop selling decorative hops and fresh flowers for, among other clients, Covent Garden and Marks and Spencer. Other businesses in the units include Bourne Vets and speciality cake-makers Mama Feelgood's and we service fire extinguishers for everyone.
Amanda, who is the third generation to live on the farm, which is owned by the Church Commissioners, praises the service we provide, saying: "The engineers arrive and just get on with the job. They give good advice, are always very accommodating and keep good records, which I particularly like.
"We rate the importance of fire safety very highly - particularly because of the experience we had in 1995 - and Fire Security Services provide an excellent service, which means we can be confident that they have everything covered for us."
Thanks, Amanda!
For further information on courses, dates and prices, please contact us.