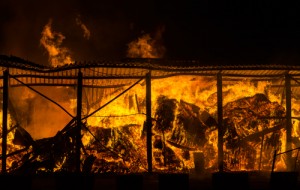 Fire not only damages or destroys buildings and, in the worst cases, people's lives, it can also have a knock-on impact on thousands associated with any business affected.
Take the blaze at the Asos warehouse in Barnsley on 20 June 2014, for example. It forced the online fashion retailer to suspend its website and stop taking orders for several days, costing the firm potentially millions in damage, lost stock and repairs to sprinkler systems.
The fire, which South Yorkshire Police believe was started deliberately, affected several floors of the vast Asos distribution centre and took more than 60 firefighters to bring under control.
About 500 workers were in the building when the fire broke out and the company now faces the nightmare of getting its operations back on track.
None of us wants to look at the darkest scenario which could befall our business, but it is a grim fact that if fire hits, we might be looking failure in the face.
According to research by economic analysts Mel Gosling and Andrew Hiles, 70 per cent of businesses would fail after a fire - either by not reopening immediately after the blaze, or gradually dwindling in resources and effectiveness to close within three years.
The analysts have published a report on the Continuity Central website which concludes that although strong evidence is hard to come by, there is enough of it to give weight to the belief that a fire can be one of the most catastrophic events to affect a business.
No doubt you know that under the Regulatory Reform (Fire Safety) Order of 2005, all commercial buildings, non-domestic and multi-occupancy premises in England and Wales must have a fire risk assessment carried out. Most already do, but there are a worrying number of companies which do not consider this a high priority - even though the designated person responsible can face unlimited fines, or up to two years in prison for failing to carry out the survey.
We at Fire Security Services are happy to help with any aspect of fire risk assessment, or fire safety generally. Give us a call and find out how we can take one of the headaches of modern business management off you.
For further information on courses, dates and prices, please contact us.