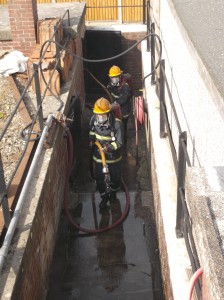 You've completed a course in fire-fighting techniques required for mariners, but how much will you recall in five years?
Regulations set by the international maritime industry and governed by the Standards of Training, Certification and Watchkeeping (STCW) in 2010 have just come into force. They require that delegates update their qualifications every five years and all must have completed relevant up-to-date training by 1 January, 2017.
Until now, there was no agreed timescale for the updating or refreshing of specific safety training, but under the crucial "manila amendment", mariners must prove they have revisited their fire-fighting training every five years.
The STCW requirement covers two courses - fire-fighting and fire prevention and advanced fire-fighting.
Here at Fire Security Services, we are already accredited by the Maritime and Coastguard Agency to deliver these two courses and we've just been approved to deliver the new "updating" courses for both.
The first update training course was held at the end of September, 2013 and included fighting a real fire. As course leader Mick Daly explains: "This is not something everyone has the opportunity to do every day, thank goodness, but it is vital training experience."
Delegates from P&O who took the courses found them useful and provided excellent feedback, including "Excellent." "Good trainers with experience, very useful in refreshing my mind with regards to fire-fighting". "Whole course very good".
To enrol on any of our fire safety training courses, call us on 01304 842317, or email training@fire-sec.co.uk
For further information on courses, dates and prices, please contact us.