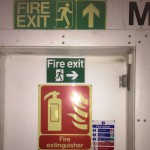 Confused by the health and safety maze? Let us help you find the right track, we might even save your sanity!
A visit to an exhibition put on by EduKent, a department of Kent County Council which provides support for education, proved an interesting and worthwhile exercise for Mick.
During the day, he met representatives from schools and colleges across the county who were concerned at the number of fire safety requirements and how they should respond. He was able to answer their questions and help provide what many of the delegates called a "sanity check".
Mick says: "The main concern among visitors seemed to be 'we haven't got enough time. We know fire protection is important and we need to know what we're doing is right.'
"It appears staff get anxious when they've had a fire risk assessment, or one is due, and find they are faced with a raft of actions or recommendations and don't know where to start - or, if they have started, they wonder if they are doing the right thing."
As a result of the visit to EduKent, we at Fire Security Services have set up something called a "fire audit" and can offer it at less than half the price of a full fire risk assessment. It involves a visit from Mick, who will walk round and discuss what is required by the client. He will also give verbal advice, but no written report - that's why the price is lower. The benefit is that detailed information can be made specific to the client's site and their issues or problems.
Many schools have not only budget issues to contend with, but they may be in old premises, with limited space and concerns over listed status. It's vital, therefore, that any work undertaken is not only correct, but actually needed. On many occasions, Mick has found that his advice, even as basic as changing the use or layout of a room, can dispense with the need for additional, expensive fire protection to be built, or installed.
It's all about managing risk and ensuring safety for all, in a cost-effective manner.
Mick has already provided this service to two clients, one in retail and one in commercial property, who are preparing for Fire and Rescue Service visits, which can come at any time and, as the UK's fire enforcing authority, have the power to even shut down a site, if they deem it necessary.
So why not have us come along to check out your premises - and help save your sanity?
For further information on courses, dates and prices, please contact us.