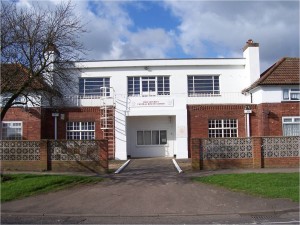 A career in the Royal Navy left Mick and Julie Daly with a host of useful skills, which they have transferred to civilian life in the hope of helping others to work in a safe and legal environment.
Fire Security Services is run by the couple on the site of a Mines Rescue Station in Aylesham, having bought the business from Julie's parents four years ago. From here they offer a series of fire prevention and firefighting courses to companies and educational establishments.
The specialist nature of the work is ideally suited to the surroundings, an old Mines Rescue Station snapped up by Julie's dad Graham Wilkinson when it was sold by the National Coal Board in the early-1990s.
Julie explained: "My father left school at 15 and worked in a mine in Derbyshire, later joining the Mines Rescue Service up there, transferring down south and ending up as Superintendent of the Mines Rescue Service in Kent. He spotted the potential for using the resources at Aylesham for training civilians and bought it from the National Coal Board.
"He set up a company providing fire security training and continued till about four years ago, when we bought it from him. My parents still take a strong interest in the business and come in to do our books every week."
Other Mines Rescue Stations still exist, but the couple believe theirs is the only one that is a private business in the UK providing such specialist training, particularly with the invaluable on-site resources left by the coal mining operation.
Mick, who was an engineer and satellite communications expert in the Navy, said much of his experience in the service proved useful in his new role. Julie, who also served in the Navy, is a specialist in training and personnel development, including emergency procedures, and runs a "crisis management and human behaviour" course for seagoing personnel on the cross-Channel ferries.
She explained: "The course came about as a result of tragedies such as the Herald of Free Enterprise in 1987, when it became clear that more defined and regular training was required for any personnel who might have the responsibility of dealing with passengers in a crisis or emergency situation.
"Our one-day course gives personnel a good idea of what they should do to maintain calm, ensuring good safety procedures and, we hope, work towards preventing anything like that happening again."
The Dalys' company is approved by the City and Guilds to provide confined space safety training to industry and by the Maritime and Coastguard Agency for a variety of fire and other mandatory courses for ferry personnel.
A particularly unique feature of the Mines Rescue Station is the underground area that is used to provide authentic conditions for training courses.
Fire Security Services are proud to be putting this fascinating old site to such excellent use. If you visit us for training you can see it for yourself!
For further information on courses, dates and prices, please contact us.