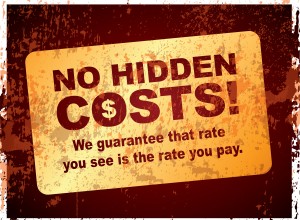 Honesty and openness in business create loyalty and support in your customers. There's no secret: with Fire Security Services, what we quote for is what you pay - no "hidden extra" charges to catch you unawares.
Yet that's not always the case with suppliers. As an example, this week an application came in from a client for two items of life-saving confined space equipment which required sending to two different specialist companies for annual service. To avoid any misunderstandings, we obtained a quote, reported back to the client, and got the go-ahead.
Yet, when the items were returned, invoices from each of the suppliers included the annual service fee, along with "additional costs for consumable items" - adding at least another 20 per cent to each quote.
When we queried this with the supplier, we were told: "Oh yes, that item always needs an O-ring/rope change/new pin at annual service." So why didn't they quote for it in the first place? We can only presume it was to make their initial quote look better than their competitors'.
It's only when you're hit with the bill that you see these "hidden extras". Our previously trusted suppliers have never normally charged for "hidden extras", it seems they, too, are joining the "how to get more money out of customers" bandwagon.
We were also asked to quote against another fire extinguisher company's quote for a large client. In comparing my quote to the other supplier, I could see they were charging for the fire extinguisher certificate, label, pin, seal, O-ring and commissioning - all separately, in addition to their annual service charge. Consequently, their quote at £1.90 per extinguisher looked cheaper compared with ours at £2.45, but when you added the required bits and prices to complete the service - their "hidden extras" such as pin/seal/label - all of which are included in our price - their annual service charge came in at £4.75 per extinguisher! We've even seen companies charging separately for a compliance certificate - a vital piece of paper for you which, again, is included in our price.
The same happens when customers apply for a quote for new equipment. Some suppliers charge for commissioning, label and bracket, all of which we include, as well as removing and legally disposing of the old fire extinguisher free of charge.
Add to this the fact that our engineers don't work on commission and you can see why we're not only the best on the market - we're the most competitively priced, too.
For further information on courses, dates and prices, please contact us.