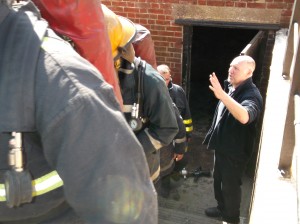 We're always intrigued to hear unusual requests for help, like the one from Steven Wickenden who needed supplies of CO2 in our fire extinguishers to provide realistic emissions from his Back to the Future replica DeLorean car (see article here).
This month, we received a request for CO2 fire extinguishers for a fish pond and although we are still not entirely sure how they helped keep the fish happy, we were pleased to hear life-saving extends to all forms of life.
The tale reminded our lead instructor Tony of his time in the fire brigade when, as a young fireman, he rigged up a solution for a distraught fish farm owner during a storm who'd lost power to his ponds. Tony found a way to use the air from his breathing apparatus cylinders to keep the fish alive until power could be restored, to the delight of the owner.
Tony's had a busy month - instructing confined space training, STCW Maritime and Coastguard Agency firefighting training, fire warden training, fire awareness training, dangerous goods at sea training, crisis management training. And when he's not doing all that, he loves to be out on his bike.
For further information on courses, dates and prices, please contact us.