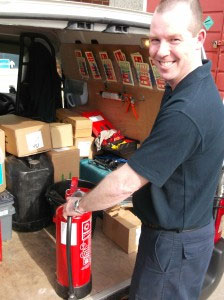 Fire protection has been Nigel Smith's life for decades and he's dedicated to passing on safety tips to others.
Nigel's fire-fighting career began at Pfizer's in Sandwich, when he joined the company's part-time retained crew while working as a manufacturing technician. The role continued for 15 years and included three years as full-time emergency response person for the site. At one time, he was the main safety officer in charge of 3,500 people - quite a responsibility.
When Pfizer's closed the site last year, Nigel was made redundant and spent the summer relaxing and catching up with life at home - until Mick Daly of Fire Security Services got in touch, letting him know of a job opportunity with the company.
Nigel explained: "Mick told me he was looking for someone to work in the fire extinguisher servicing side of the business and that my old boss had told him I was available. I was lucky enough to get the job and I've been working for Mick since October and loving it."
As fire extinguisher service engineer with Fire Security, Nigel is responsible for ensuring they are in full working order and for visiting companies to install them and advise staff on fire safety.
As well as completing the fire extinguisher Engineer qualification, all Fire Security Engineers are also required to qualify with BAFE. This additional qualification is seen as vital by Mick at Fire Security, in adding extra qualifications and knowledge to his Engineer's skills, as well as ensuring quality services to our clients.
The BAFE exam is set by an independent third party registration body, on behalf of the fire protection industry. It tests candidate's knowledge of the theory of fire, the installation and use of portable fire extinguishers - including water, foam and powder-based - and where they need to be installed.
The exam also covers health and safety at work, outlining the duties of both employer and employee.
Nigel said achieving the qualification was well worthwhile, even having an assessor shadowing him on a call-out, which proved "a bit daunting". He added: "I enjoy my new role. It gets me out and about, working in different environments - some outdoors and some indoors. It's challenging, but I feel I'm doing something useful."
Mick comments: "Nigel did exceptionally well at his BAFE assessment. His assessor's feedback said he was 'competent, thorough, professional - good assessment'."
New regulations over fire security mean another of Nigel's roles is to explain carefully to customers what they are legally required to do. He said: "Employers have a varied reaction to the regulations. Some understand what's required, some don't and have to have it explained to them."
The job means Nigel travels extensively across Kent and London, where high-rise office blocks can mean a challenge - especially if the lifts are not working!
When he's not working, Nigel, 46, enjoys DIY and spending time walking the dog and socialising with his family.
For further information on courses, dates and prices, please contact us.