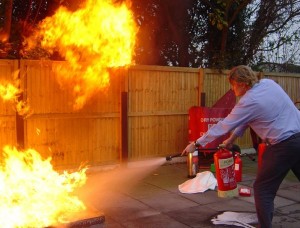 Do you know where the nearest fire extinguisher is - and how to use it safely? Research shows that early intervention is vital, saving lives and property.
A study by the Fire Industry Association in 2008 revealed that 80 per cent of blazes fought with an appropriate extinguisher were successfully put out and that in 75 per cent of cases there was no need to call the emergency services.
Chief Executive of the association Graham Ellicott writes: "Based on these findings, there is no doubt that portable fire extinguishers play an important role in the preservation of life and property.
"They can reduce the risk of a small fire, for example in a waste paper bin, developing into a large one."
Mr Ellicott highlights the importance of proper training in the use of extinguishers and of having designated fire wardens, responsible for ensuring all members of staff in any organisation are safely evacuated from the building, if necessary. Advice on safe escape routes and, where appropriate, equipment for helping people to get out of upper floors, should be given by a properly trained person, he advises.
Mr Ellicott says every member of staff within a business must be aware of where extinguishers are and how to use them in an emergency. He adds: "All fire safety equipment should be installed and maintained by a competent person."
For maximum safety and security, all extinguishers must be tested regularly and replaced when necessary.
The Fire Industry Association is a not-for-profit trade group which promotes the professional status of the UK fire safety industry. For more information visit http://www.fia.uk.com
You can see details of our training in fire extinguisher use here.
For further information on courses, dates and prices, please contact us.