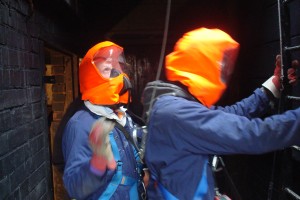 It's a temptation in a recession to shelve, or reduce, training for employees, but government regulations require certain levels of safety awareness. So how do hard-pressed businesses balance the legal requirements against the cost of courses? Help is at hand, if you know where to look for it. The CITB, SSAFA and the Job Centre have all providing funding to delegates on our recent training courses.
One of the most popular types of training provided by Fire Security Services is the City and Guilds Confined Spaces course, which teaches delegates to identify risks and how to cope with the difficulties of working underground, or in areas of poor ventilation. We also run fire-fighting courses for employees in the maritime industry, some of whom are former servicemen and women.
Anyone on a City and Guilds-approved course can apply for specialist funding support from the Construction Industry Training Board (CITB). Here are a few pointers to what financial support is available, but you'll need to check out the website on www.citb.co.uk for how to claim. Basically, you need to find out which category your training course comes under.
So how much can you claim? New regulations approved by the government allow for £50 for each training day, plus support for any additional days required to complete a qualification.
To claim, check the CITB website and ensure you have registered with its levy and grant system. You will be given a registration number, which you must give to your training provider. An automatic claim form will be issued when you have completed the course and it must be signed and returned by 31 October, 2014. Forms are also available to download online.
The grant is provided to employees, labour-only sub-contractors and agency staff in the construction industry, or related occupations. It is not valid for people in jobs not related to construction work.
Former service personnel have an additional route to funding, for safety courses which will help them get a job. The SSAFA national armed forces charity offers grants for training specifically to work in the maritime industry and we have had a successful application from an ex-serviceman who received financial help to take our STCW (Standards of Training Certification and Watchkeeping) approved fire-fighting course. Details are available on the SSAFA website www.ssafa.org.uk.
Suitable candidates can also apply for enhanced learning credits for up to 10 years after leaving the services. Check out the website www.enhancedlearningcredits.com
Two of our delegates on the fire-fighting course also received help from the government via the Job Centre, because they needed the qualification to get a job. Check out details on the www.gov.uk website.
For any further advice on how to reduce the cost of any of our vital safety training courses, call us on 01304 842317, or email training@fire-sec.co.uk
For further information on courses, dates and prices, please contact us.