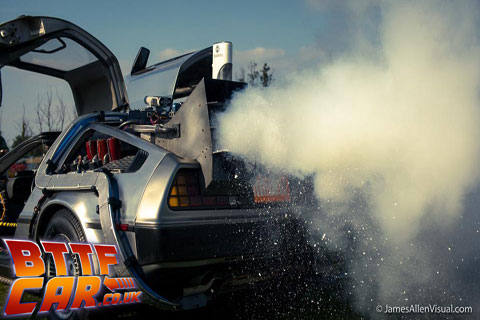 A touch of 80s celebrity came our way, with a visit from entrepreneur Steven Wickenden.
Steven, who lives in Walmer on the Kent coast, popped in on his rounds as an accounts manager, to see if we could help with a personal project he was working on - re-creating the magic of the popular sci-fi film "Back to the Future".
As an avid collector of props, costumes and memorabilia connected with the film industry, Steven had become the proud owner of a replica DeLorean car used in promotions for the 25th anniversary of the movie in 2010.
He saw the car was on sale by Universal Studios and snapped it up for £47,000, arranging for it to be shipped from Los Angeles to Southampton in 2011.
Steven said: "I collect lots of costumes, props and memorabilia connected with films and the chance to buy the Back to the Future car was too good to miss. It took eight weeks to be shipped to the UK and we had it transported to our home in Walmer, where it sat on our drive for a while, until we found somewhere to store it."
The car is now popular as the focus of a number of high-profile activities, including the 2013 semi-finals of Britain's Got Talent and the Keith Lemon TV show. Steven has also arranged for it to be used by private companies for corporate events and it is a big hit with wedding couples eager to feature something different in their big day.
Steven explained: "We've ensured several bridegrooms have got to the ceremony on time and even taken a few brides, although it can be a bit of a squash if they have a big dress. One got caught in the door and was dragged along as we drove to the church. The bottom of it was black by the time we arrived!"
So how did Fire Security Services get involved? Steven needed expert help in safely reproducing the cloud of steam which shot out of the back of the car after its time travels in the movie. And this is where Mick Daly's expertise came in.
He supplied Steven with a fire extinguisher canister to produce realistic CO2 after some necessary alterations to the pipe work and was happy to offer some expert advice as a former Royal Navy satellite communications engineer.
Mick was thrilled to get to use his skills for such an extraordinary engineering project, "It certainly adds a bit of extra thrill to the day job - not that playing with fire ever gets dull!".
For further information on courses, dates and prices, please contact us.