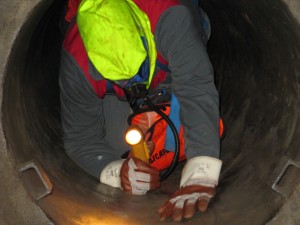 Contractors tunneling underground on an ambitious cross-London rail link are working in safer environment, thanks to our specialist fire fighting in confined spaces training.
The workmen employed to complete the 42 kilometres of tunnels as part of the ambitious project to link the capital to East Anglia were enrolled on a firefighting course with Fire Security Services, using our specialist training tunnel at the former mines rescue centre in Aylesham.
We were delighted to be able to offer the teams advice on how to work safely around the massive tunnel boring machines and how to guard against the dangers of working underground.
The Crossrail link, which will open in phases over the next six years, will run trains from Liverpool Street to the east coast, starting with a link to Shenfield in Essex. It is due to be completed by 2019.
Working in confined spaces courses are among the most popular of our training courses. Confined spaces can be above, or below ground and can be found in almost any workplace.
"What defines a 'confined space'?" Mick Daly of Fire Security Services answers: "It doesn't necessarily mean small. It generally means there is some difficulty with entry or exit and that there is a specified risk in working there."
He continues: "Our training is aimed at a wide range of people working in sewers, vats, silos, vent-trunking - even archaeologists and bat surveyors."
Bat surveyors?
"They have to go into confined spaces, such as caves and tunnels in the course of their work, so we train them how to do so safely," Mick says.
Confined space training went through a "pivotal change" in 1997 with the issue of the Confined Space Entry Regulations - health and safety provision which has become law. Fundamental fire safety changes were introduced in 2006 and the matter of fire safety is always under review, and it's important that companies keep up-to-date.
Our training course includes instruction on how to use gas monitoring equipment, tripods and winches, as well as other safety equipment such as harnesses and lifelines. We offer three levels of qualification, based on low, medium of high risk conditions to be worked under.
Theory is backed by demonstrations and practical exercises, with a City and Guilds-approved assessment (if required) on the final day. The certificate issued to successful candidates is valid for three years.
To participate delegates must be physically fit and capable of wearing escape breathing apparatus. Give us call if you'd like to know more.
For further information on courses, dates and prices, please contact us.